Posted in Murder Trails Series
Posted by Jack Sim on 4 September 2012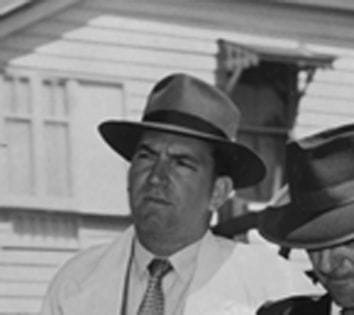 A FORENSIC PUZZLE
Every Murder Trails publication sources rare photographs and images - many of which have never before been seen by the public.
Identifying the people in these images is a painstaking process - few details usually accompany old photographs; frustratingly most of those captured on film remain anonymous witnesses to the past.
However recently while reviewing the captions in WHO KILLED BETTY SHANKS?, author Ken Blanch recently identified Detective Mervin Chalmers among a group of investigators present at the crime scene of Betty Shanks.
Detective Chalmers stood out in the photo due to his height and build. Nicknamed "Lother" after Mandrake the Magicians muscular African companion, the well-known detective in his day can be seen examining blood stains on a wooden fence. The full photographic image has been included in WHO KILLED BETTY SHANKS? REVISED EDITION by author Ken Blanch.
WHO KILLED BETTY SHANKS? has over 50 photographs sourced by Ken Blanch and Jack Sim from a variety of archives, libraries and private collections.
This book is available online and at Dymocks and Angus & Robertson Bookstores.
Meet the Author: Ken Blanch will appear instore to sign copies of his revised book at Angus & Robertson Brookside on Saturday 22/9/2012 between 10am – 2pm