SHE WAS ONE OF US: Betty Shanks
Posted by Jack Sim on 5 September 2012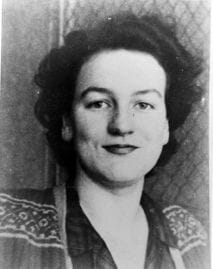 She was one of us...
Long ago a lovely person was lost to us. One of us. A Brisbane girl whose name has sadly become associated with a terrible crime, but she was not a victim.
Had she lived, she would soon turn 83 years old, surrounded by her grandchildren and great-grand children.
Betty was unusual for her time. She loved to study and may well have risen to become a lawyer or even eventually gone into politics.
Central to the lives of many, not least of all her mum and dad, and younger brother Alan, Betty's wage sustained the household. She was needed, respected and loved.
Brisbane in 1952 was different to today – traffic was minimal, there were far fewer cars, the city was more laid back, quieter, reflecting its status as the biggest country town of a state of such towns. People had time to think and read. There was no rush. Computers, mobile phones, portable music and devices did not exist. People thought about each other, they talked face-to-face. Rock 'n' Roll was yet to happen. The Second World War was over but biggest concern was the threat of communism - the 1950s equivalent of terrorism - even so most Brisbanites simply went about their business.
However, one Friday evening, in a quiet Brisbane suburb, this all changed forever.
The murder of Betty Shanks was the crime which turned Brisbane into a big city, where violent crime was "normal".
One of the three oldest cold cases under investigation in Australia, and Brisbane's greatest unsolved murder-mystery, the brutal killing of Betty in 1952 has baffled generations of detectives and locals alike.
Ken Blanch is appearing at several bookstores over the next few weeks to sign his book:
Dymocks Carindale Thursday 20/09/2012 4pm - 9pm
Angus & Robertson - Brookside Saturday 22/09/2012 10am-12.30pm
Dymocks Chermside Saturday 22/09/2012 1.00pm - 4pm

Angus & Robertson - Ipswich Saturday 29/9/2012 11.00am - 2.30pm
A Lot of Books - Ipswich Thursday 4/10/2012 11.00am - 1.00pm