400 POLICE IN MURDER MAN-HUNT: WATCH SEVEN FLASHBACK TONIGHT
Posted by Jack Sim on 16 September 2012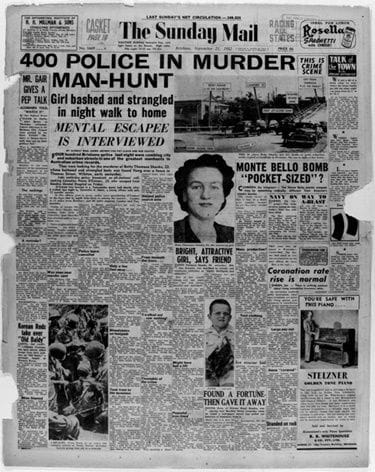 Terror Sweeps City
The front page of The Sunday Mail 60 years ago accurately captured the feeling of terror that swept the city of Brisbane. Police threw all their resources at finding the killer.
Sunday Mail crime reporters Pat Lloyd and Win Coates (who was the second journalist to arrive at the crime scene along with his friend Ken Blanch of the rival Brisbane Telegraph) wrote:
Four hundred Brisbane police last night were combing city and suburban street s in one of the greatest manhunts in Australian crime records.
They were looking for the murderer of Betty Thomson Shanks, 23, whose battered and strangled body was found flung over a fence in Thomas Street, Wilston early yesterday.
The coverage in The Sunday Mail unintentionally published many inaccuracies due largely to the reluctance of the police to disclose information to reporters that might play into the hands of the murderer. Some of these errors became facts - such as Betty's age being 23 years (actually 23 years) and were repeatedly replicated for decades. The newspaper's widespread circulation was more than 250,000 and it sold out early on the Sunday.
This front page is one of the most infamous in the River City's history. Copies of this edition survive in households to this day - a macabre souvenir of the terrible crime.
Although the murder happened on Friday 19 September, it wasn't until the next morning that the victim's body was discovered – too late for daily newspapers. Despite this, word spread rapidly through the community of Brisbane by radio and word of mouth that there had been a savage crime committed.
The man-hunt was only eclipsed in scale by the police search for Allison Baden-Clay, 43 year-old, mother, who disappeared from her Brookfield home on 19 April this year.
Watch "Flashback" this Sunday, 16 September, on Seven News. Journalist Peter Doherty will report on the 60th anniversary of the Wilston Murder including a preview of "Betty Shanks:The Wilston Murder" and interviews with Ken Blanch and Jack Sim about WHO KILLED BETTY SHANKS? Is The Wilston Monster Still Alive? REVISED EDITION.
Join up Facebook https://www.facebook.com/JackSimPresents, Jack Sim's VIP Mailing List, or follow this blog to be advised of the full screening of "Betty Shanks: The Wilston Murder" at the State Library soon.
...And dsicover Brisbane's criminal history and buy WHO KILLED BETTY SHANKS? Is the Wilston Monster Still Alive? REVISED EDITION by Ken Blanch. Betty was one of us. Her story must be told.