LAST PHOTO TAKEN: Who Killed Betty Shanks?
Posted by Jack Sim on 18 September 2012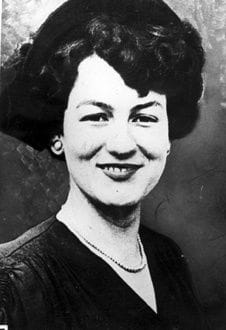 LAST PICTURE TAKEN OF BETTY SHANKS...
dressed formally for a cousin's wedding weeks before her death.
This rare photograph, originally published in The Courier Mail, captures a happy, vivacious young woman, who loved life.
Raised by loving and proud parents, had she lived, Betty would have gone on to contribute a great deal more to society.
Her callous, cold-blooded murder sixty years ago tomorrow, was without reason or justification.
As Ken Blanch and I research and promote this case, we do so with the constant hope that Betty's murderer will eventually be brought to justice, or may yet confess to his evil crime.
Though that a coward has managed to elude capture for six decades is disheartening, his act in no way diminishes what Betty brought into this world.

Tomorrow, 19 September, will mark the anniversary of her death. As such, I will not be posting a blog tomorrow. Ken and I will be on air on 4BC radio at 1.05pm to talk about this anniversary and his revised book.
We ask that everyone reading this blog please spare a thought tomorrow for Betty Shanks, her parents, brother, friends and family - all the victims of this tragedy.
For more than 60 years this crime has been an open wound on our city.
Ken Blanch and I dedicate his book to all the women of the world who have suffered or died at the hands of brutal men.
Thank you for your ongoing support of my books and publications.
Jack